Liberty Pultrusions has been using the pultrusion process to manufacture quality Fiberglass Reinforced Plastic (FRP) Pultrusions for over 40 years. Our expertise and quality of customer care have made us a premier US-based pultrusion manufacturer.
Some of the benefits of using FRP Pultruded Products over other materials, such as steel, aluminum or timber, include being highly corrosion resistant, non-conductive to both electricity and heat, non-magnetic electromagnetic transparency, lightweight, highly durable, and having a long life cycle and low maintenance.
Because FRP pultrusion is a strong and durable material, it is often more cost-effective than using steel, aluminum and wood/structural timber. FRP Pultrusion is a quarter the weight of steel but just as strong, non-conductive and doesn't corrode or rust.
We produce a variety of standard stock pultruded shapes (electrical shapes and structural fiberglass pultrusions) as well as custom pultrusions, pultruded fiberglass rod, precision machined parts and structural fiberglass fabrication.
Please read below or click on the links below for more information and technical data on each product we offer.
CUSTOM PULTRUSION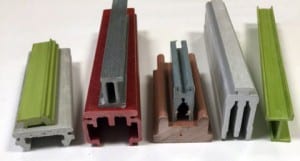 Our custom manufactured pultruded shapes come in a multitude of pultrusion resin system and colors that meet our customers' specifications. We fabricate pultruded parts for value-added service with a quick response time. Our expert engineering staff can assist in the design of virtually any continuous cross sectional pultrusion profile.
STRUCTURAL FIBERGLASS PULTRUSION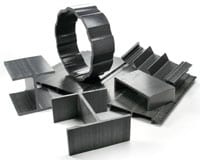 Liberty Pultrusions has stock on a variety of standard sizes and shapes of Structural Fiberglass Pultrusion profiles in three standard systems (Polyglass 'F', 'C' and 'M'). These Polyglas Structural Pultrusions are a combination of fiberglass reinforcements and thermo-setting polyester or vinyl ester resin systems. They can also be fabricated to your specifications.
Our structural fiberglass pultrusions include:
FIBERGLASS PULTRUDED ROD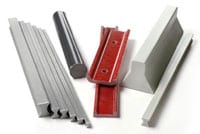 A very popular product, Liberty Pultrusions stocks many sizes of Polyglas solid rod products including round, square, trapezoid, 'A', dogbone and rectangular shapes.
See what sizes and shapes of pultruded rod are available for immediate shipment. If we do not have what you are looking for, we can always design a custom pultrusion to fit your needs.
STRUCTURAL FIBERGLASS FABRICATION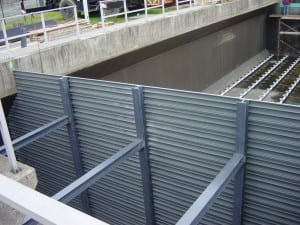 Through our Structural Fiberglass Fabrication process, we can also assist in the engineering, design and fabrication of your finished structural fiberglass system. This is a very cost-effective solution that will enable you to meet the demands of your specific application. When corrosion, electrical conductivity and RF transparency or weight presents problems, structural fiberglass provides the answer.
POLYURETHANE PULTRUSION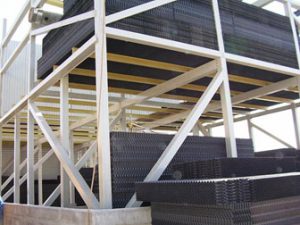 Liberty Pultrusion manufacturers custom pultrusions utilizing Polyurethane resin technology. Urethane is 40% stiffer than Polyester, this allows for a stiffer profile or reduction in profile thickness by about 25% which reduces the profile weight and maintains the same stiffness as Polyester resin technology.
PULTRUDED FIBERGLASS ELECTRICAL SHAPES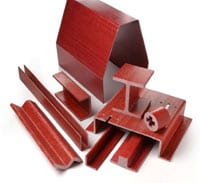 Liberty Pultrusions produces Pultruded Fiberglass Electrical Shapes and stocks more than 40 sizes of standard pultruded angles, channels, flanged channels, square tubes and terminal board shapes for immediate shipment. Our flame-retardant polyglas electrical shapes are reinforced with fiberglass and can meet or exceed NEMA GPO-3 specifications. See how our electrical shapes stack up to other materials like steel, aluminum & timber. You can also see the technical data for each shape.
PRECISION MACHINED PARTS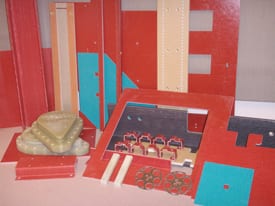 Our Precision CNC Machined Parts are developed through our internal machined parts department experienced in fabricating parts made from fiberglass pultrusions and plastic sheets. We have precision machined high pressure laminates, glass polyester sheet, UHMW, HDPE, and other thermoplastic and thermoset sheet products.
FIBERGLASS GRATING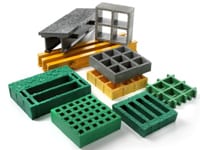 Liberty Pultrusions manufactures an extensive product line of FRP Grating, such as stair treads panels, stair tread covers, and molded fiberglass grating for use in applications such as walkways, platforms, stairways and more.
In addition to manufacturing pultrusion products, Liberty Pultrusions also sells pultrusion equipment and technology. We have both new pultrusion machines and used pultrusion machines for sale, and offer other equipment and technology transfer.
---
________________________________________________
GOT A QUESTION?
NEED A PRICE QUOTE?
Send us a drawing or Contact us.
1-412-466-8611
[email protected]
________________________________________________
At Liberty Pultrusions you can:
We are committed to servicing our customers' needs by providing superior customer support, aggressive pricing, fast delivery and the highest quality pultrusion products available.