Liberty Pultrusions offers industry a complete fiberglass solution. We can assist in the engineering, design and fabrication of your finished structural fiberglass system. When corrosion, electrical conductivity, RF transparency or weight, present a problem, structural fiberglass provides the answer.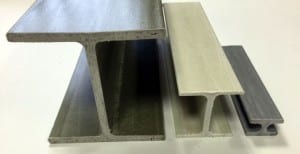 Structural fiberglass is a very cost effective solution when traditional materials cannot meet the demanding challenges of your application. Please contact our sales department for more information.
Applications for Structural Fiberglass Fabrication include:
FRP Stair and Handrail systems
Industrial platforms and walkways
Marine structures
Food Manufacturing Applications
Fiberglass Baffle Walls
Manhole Covers
Fiberglass Louvers and Ridge Vents
Ladder systems
FRP Tank Covers
Water & Wastewater Containment systems
Sludge Dry Beds
Trough Covers
FRP Enclosures
FRP ramps and crossovers
---
At Liberty Pultrusions you can:
We are committed to servicing our customers' needs by providing superior customer support, aggressive pricing, fast delivery and the highest quality pultrusion products available.