Liberty Pultrusions offers industry a complete fiberglass solution. We can assist in the engineering, design and fabrication of your finished structural fiberglass system. When corrosion, electrical conductivity, RF transparency or weight, present a problem, structural fiberglass provides the answer.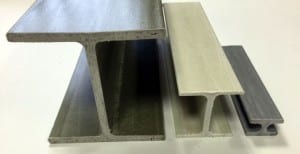 Structural fiberglass is a very cost effective solution when traditional materials cannot meet the demanding challenges of your application. Please contact our sales department for more information.
Applications for Structural Fiberglass Fabrication include:
FRP Stair and Handrail systems
Industrial platforms and walkways
Marine structures
Food Manufacturing Applications
Fiberglass Baffle Walls
Manhole Covers
Fiberglass Louvers and Ridge Vents
Ladder systems
FRP Tank Covers
Water & Wastewater Containment systems
Sludge Dry Beds
Trough Covers
FRP Enclosures
FRP ramps and crossovers
---
Back Pack Rack
This product is a portable backpack rack that a company is interested in marketing to schools and sporting leagues (Soccer in particular). The current units are steel and do not unassembled and are very heavy. This one with wheels, hooks, material, 32lbs and holds a significant load. Fits easily into a trunk of small car.
---
At Liberty Pultrusions you can:
We are committed to servicing our customers' needs by providing superior customer support, aggressive pricing, fast delivery and the highest quality pultrusion products available.